Day 1 Results
Day 2 Results
Laptimes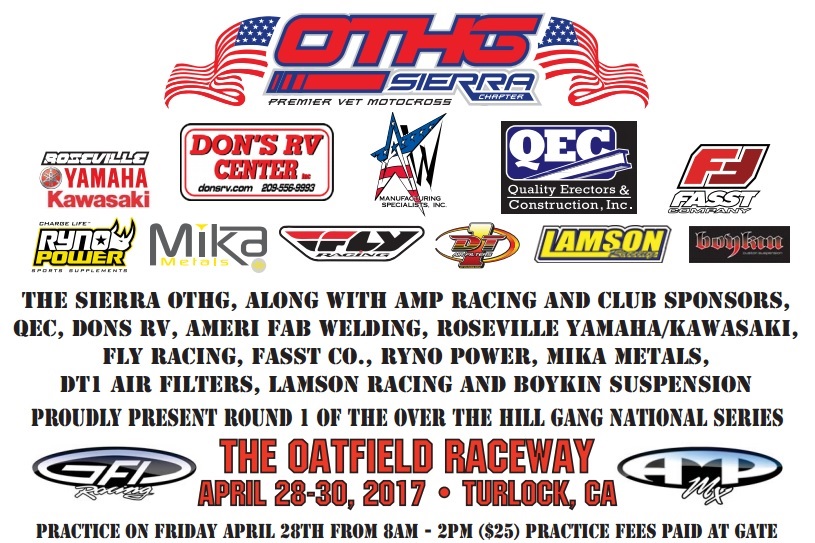 The first installment of the 2017 OTHG National Series is happening April 28-30, 2017 at The Oatfield in Turlock, California!
OTHG members who've had 2 races in the last year or 4 races in the last 2 years are qualified to enter!  Online signup end April 14, 2017 so be sure to get your online registration in!
Online signup with PayPal is available from their website: OTHG Sierra Chapter (you have to register with the Sierra Chapter to get to the online signup form)
Once you register online, you will receive a PayPal invoice within 48 hours. If you have any questions about registering/paying for the national, please contact Jason Rogers at 916-869-4155.
Dowload/Print PDF Pre-Entry Form
---
When: April 28 – 30
Where: The Oatfield Raceway
Practice: Friday from 8am-2pm ($25) – Practice fees paid at gate
Gates open Thursday 3pm – 9:30pm, Friday/Saturday 6:30am – 9:30pm, Sun. 6:30am
Gate Picks and Entry List (Updated daily):
---
Track Info
Free camping at the track.
Gates open Thursday 3pm – 10pm, Friday 6:30am – 10pm, Saturday 6:30am – 10pm, Sunday at 6:30am. Please note: no admittance prior to posted times, except for track operators, vendors & sierra board members.
$10 gate fee per day, please do not include gate fees with payment.
Kids 10 and under are free!
Raffle Info
Pre sale raffle tickets – $20 gets you 25 tickets, $50 gets you 75 tickets, $75 gets you 125 tickets and $100 gets you 175 tickets!
Event day raffle tickets – $20 gets you 25 tickets.
Payment Info
Pre entries – $90 (closes April 14)
Includes dinner & t-shirt (short sleeve)
Additional dinners @ $15.00 each
Additional short sleeve t-shirts @ $15.00 each
Additional long sleeve t-shirts @ $20.00 each
Additional tank tops @ $20.00 each
Post entry – $100 (no dinner & no t-shirt)
Single day – $50 per day (no dinner & no t-shirt)
Support class – $35 per day (no dinner & no t-shirt)
$5 processing fee for PayPal registration